Parson Russell Terrier Rules
Whoever it was who coined the cliche, "They're not for everyone" had to have Jacks in mind. Living with Parson Russell Terrier Puppies is an experience, but it is not difficult if you know the rules:
Rule One: Jacks love adventure
Rule Two. Jacks love to have fun
Rule Three: In case of any misunderstandings, refer to Rules One and Two.
Feisty, high-energy, adorable – when referring to dogs, these words all bring to mind the fun-loving Parson Russell Terrier.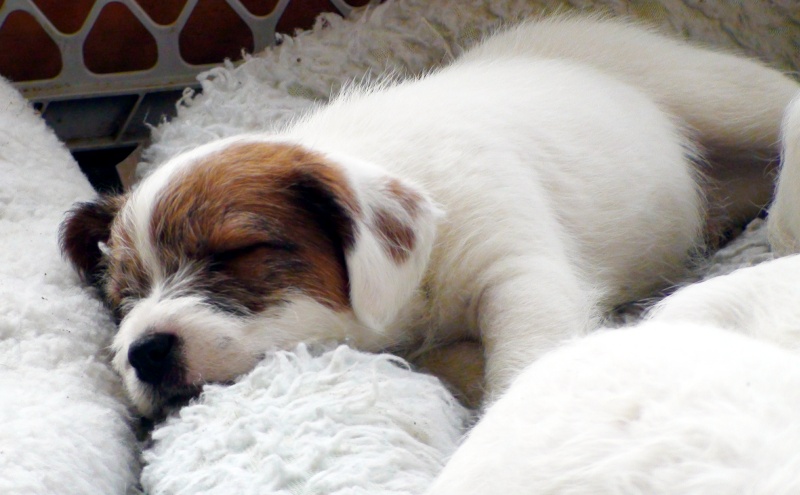 Dogs sold to loving families
Checks before dogs are released
What people are saying about us
Just had our 1st visit with our Vet today and our little one is the Healthiest Puppy in Town! The veterinarian was impressed with her disposition to no end! She was thoroughly checked for signs of hip displacement and passed with flying colors — and checked for range of motion on all leg group – 100% and Full Range of motion! She has Perfect Heart rhythm and sound Lungs. What a Beauty is what the Vet said! And let's not forget her worm test – None of course! You have delivered a Perfect Puppy and I am sure that everyone in your Puppy Family over the years can say the same! Thank you for a wonderful and seamless transaction!
Jacks or Better had me covered in every way possible from start to finish in securing our Parson Jack Russell Terrier puppy at the airport! There were no issues or concerns from the TSA or airline crews – they are Tip Tops!!
Our Watson is 6 now! He has been the most amazing, loving, gentle, smart, funny dog on the planet. He loves to go on our boat, on hikes, runs for miles on the beach and is an amazing cross country skier! We would get another dog from Sally in a heartbeat. We have to keep talking each other out of getting another one!
September 6, 2017
Sally!!!
I'm sure you get this email every time you send home a new puppy, but I'm telling you this one is different!!! This is not just a happy new puppy owner, this is what I needed in my life!!! My heart is SO full!!!
I see 100's of dogs every week, I have had so many of my own that I loved, but this one, is my 4 legged soul mate!!! I'm serious!
He has joined our family in a way one could only hope! He is more than I ever could have expected and perfect in every way! I'm sure all your dogs are of similar personality and we would have been happy with any, but this guy, he was meant for me!!! I have never loved a dog so much and bonded to a dog so quickly. And he's great with the whole family!!! He follows everyone around and gives everyone attention, but someone must have told him to please save all his cuddle time for me :)))
Anyways, you must know that this is priceless, I can't believe we have been so lucky to have found you, found him, I just can't even put it into words.
Love,
Ashley and the rest of the Leo fam
We have Parson Russell Terriers For Sale – New litters every year.  Watch this site often – visit us/follow us on Facebook.  When confirmed pregnancy is posted, get in touch – send a message to have the best shot at one for you!