Why Us?
What we do, what we've done, and how we got here........
We Specialize in Grins and Giggles
Since 2003 we have been raising and perfecting our skills. Carefully planned litters, many hours of research, long hours spent talking with other breeders, joining the breeds parent club, local & international forums, extensive DNA research and testing, veterinarian consultation, health studies, the trials and, yes the errors, but most of all the crazy wonderful love of this breed, place us at least near the top of the list to consider one of ours for all of you. With over 200 puppies – dogs on the ground, and as many references, we think you will find that we are worth talking to and getting, one of our puppies for sale.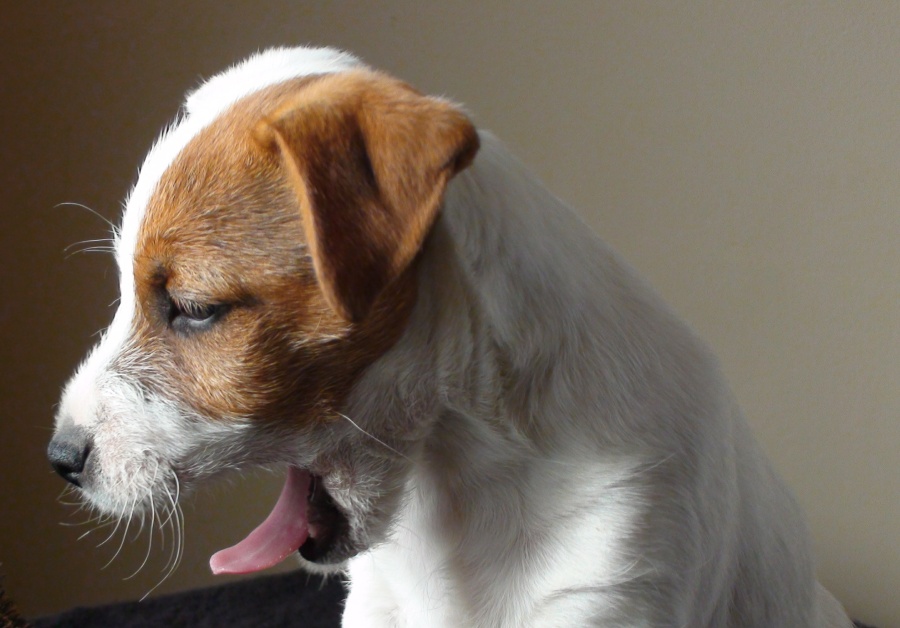 Two Year Health Guarantee Against Predisposed Genetic Defects
Full purchase price refunded or available puppy of your choice – any litter. All Sire's & Dam's have been genetic tested and listed at the OFFA (Orthopedic Foundation For Animals) – CHIC (Canine Health Institute Center – AKC affiliated) with CLEAR – NORMAL designations. Subject to the terms of the puppy contract. Ask us for a sample for more details. While there still exists chances of diagnosis, we care enough to do our best to reduce your chances and hope that you never need the guarantee. REMEMBER, YOU ARE BUYING A PUPPY, NOT A GUARANTEE. THE BEST GUARANTEE OF A HEALTHY PUPPY IS ONE WHO'S PEDIGREE OF ANCESTORS CAN BE PROVEN TO BE HEALTHY AND SOUND THEMSELVES!
The Longer Legged Version / All Three Coat Types & Color
There are the "shorties" 8″to 10″ inches tall and there is the longer legged – 12″ to 15″ tall. These are the longer legged version. We have all three coat types – Smooth, Broken, and Rough The colors are Tri, Tan and White, Black and White, or White. We've got you covered, now just what is your favorite?
Complete Puppy Package
5 Generation Pedigree. Free Samples. History, Easy Care Instructions. Need to
get in touch with us
? Well, that's in there too. Additional information and brochures about the breed. We stick around for as long as you will have us. Our mailing list has grown to over 100. Sharing stories, photos, videos, and meeting all the other Jacks or Better "Crew" gets the fun started and keeps it going. Looking for puppies for sale? Buying a puppy from us is just the beginning. Referrals are our fondest memories and our best compliments. REST EASY… YOU HAVE A LIFETIME OF SUPPORT
Up to Date Vaccinations and Health Checks
Nobody leaves until they pass with an "A". Your puppy pack will contain a detailed set of records for you and your vet. Done by our own personal, trusted  veterinarian – take the guess work out of over or under vaccinating.
Tails and Dew Claws
Tails are "PROPERLY" docked and dewclaws removed within 4 days of whelping by a licensed vet. No self-made surgeons here! Reducing chances of scaring and little stress on the puppy if done at that time and in that manner.
Return Policy
While a refund or a partial refund may or may not apply, we will ALWAYS take a puppy back for any reason or no reason. We usually have persons on our waiting list or know of someone on the "hunt" Life changes, situations change, be certain we will find the best, we usually do! Please REGISTER your puppy. It is much easier should we have to rehome them.
Jacks or Better is a registered kennel, Breeder of Merit, and Bred with H.E.A.R.T with the AKC (American Kennel Club)
This ain't no rest home buttercup! Established in 2003 we have come a very long way. We have done the homework so you don't have to.
We're also registered and/or with the following: United Kennel Club (UKC) Registerable, The Missouri Department of Agriculture, PRTAA (Parson Russell Terrier Association of America) Member.  Dogs can be viewed for DNA health testing at the www.ofa.org website.