Puppies
Your purebred Parson Russell Terrier Breeder!
October 29th, 2021
THERE ARE NO PUPPIES CURRENTLY AVAILABLE.  PLEASE CHECK BACK SPRING 2022. 
PLEASE CONSIDER THE FOLLOWING – puppies come with a spay/neuter agreement unless otherwise negotiated.  Puppies will go for $2,500 male or female.  NO SHIPPING AVAILABLE.
Non solicited reviews /opinions can be seen on our Facebook page – (CLICK ON) Parson Penthouse.
About Our Waiting List
We do not accept deposits.  That way we are not obligated to you and you are not obligated or pressured to get one from us.  This is not a "first come, first served" basis.  We truly do our very best to match up the right persons with the closest match puppies. We do not keep waiting lists from one litter to another, from year to year.  Waiting lists start when we have CONFIRMED pregnancy's.  Just found it impossible to keep up with as so many things change so quickly for you and I.  Please then be sure to get on new lists as they develop.   Reminder you are BUYING A FAMILY MEMBER, not a car, not a couch, or even a meal!  Our puppies come with it ALL, or all we know of to have.  We are not the cheapest, but not the most expensive either.  Don't look for a "sale" or expect a Corvette at a used pick up truck price.  We are more than happy to discuss our pricing and why.  I cannot remove the show/breeding qualities of these puppies and there are PLENTY of reasons you WANT it other than that.  Even if you have NO plans on doing such but that is the sort of thing we think you can expect from one of ours!
What's shakin for 2021 – 2022!
Our double registered, DNA health tested top 3-4 females from the best Parson Russell Terriers are scheduled to be bred during 2021, with the best studs around waiting to take part.  Even if you have no plans at this time to show your dog , puppies are of that caliber and it will show. See the "WHY US" page to see why!  We are after the COMPLETE package, to go beyond your expectations. There is no better compliment when we succeed. Our references will support it and we will provide plenty of them. Visit our Facebook page to show a bunch of success stories. We are always more than willing to help with what we know about them. Whether you buy one from us or not does not matter. That you get a good one, a REAL one does!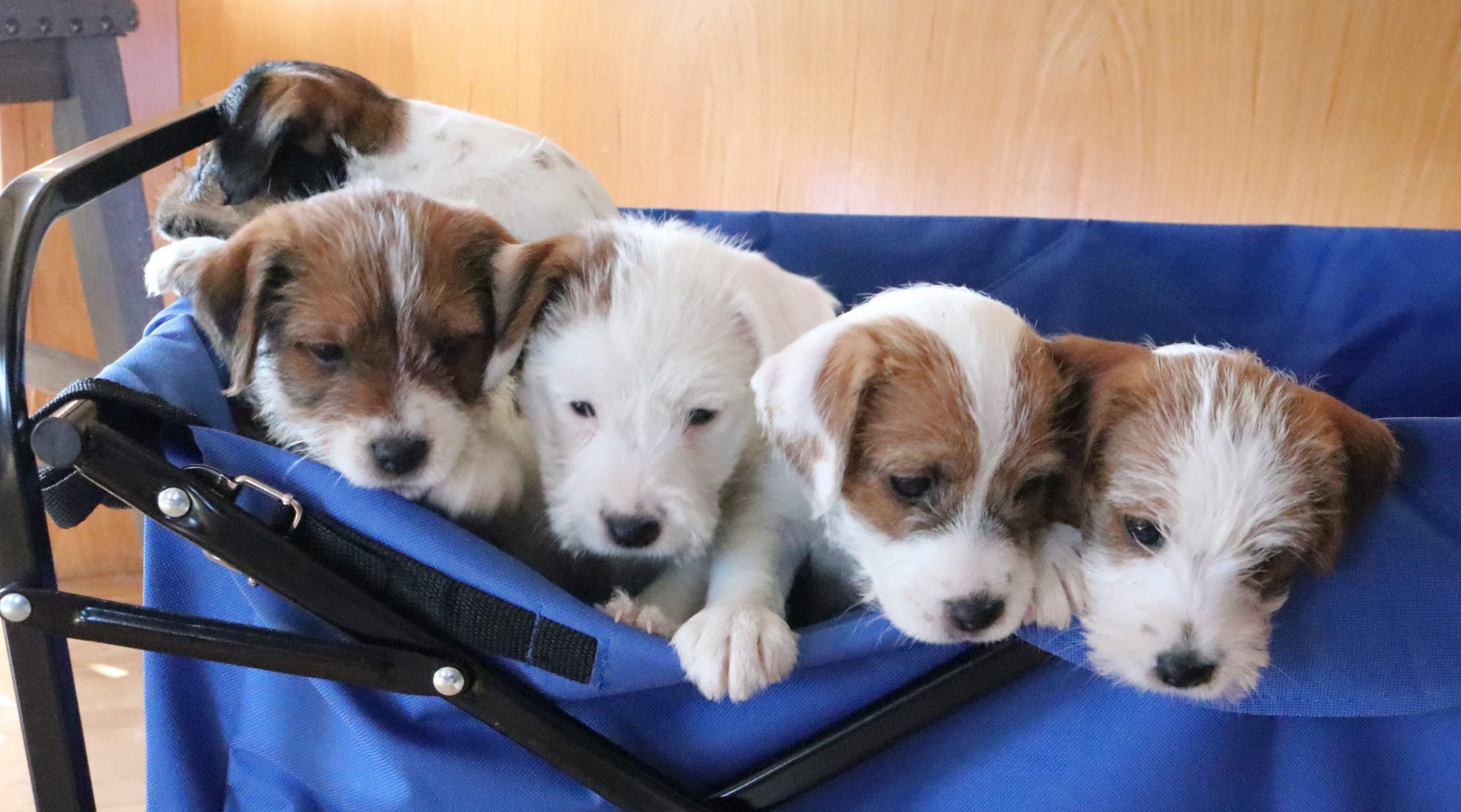 Important Please Read
You're buying from one of Americas most sincere and honest Parson Russell Terrier breeders. Our puppies are for approved homes only and we reserve the right to refuse a sale if we feel the welfare of the puppy may be compromised and/or your lifestyle may cause disappointment with one of our puppies.   We do not sell to pet stores, animal brokers, or puppy mills.  We do not guarantee show quality but do imply the possibility.  We do not guarantee coat or color upon maturity but can pretty well predict it.  We're not your average Parson Russell Terrier breeders, we guarantee quality puppies and will always take one back and/or assist with re homing.  For ANY reason, or NO reason.  You are never, ever a bother to us and we welcome you and are proud to have you in our "Jacks or Better Crew"      Sally – Jacks or Better